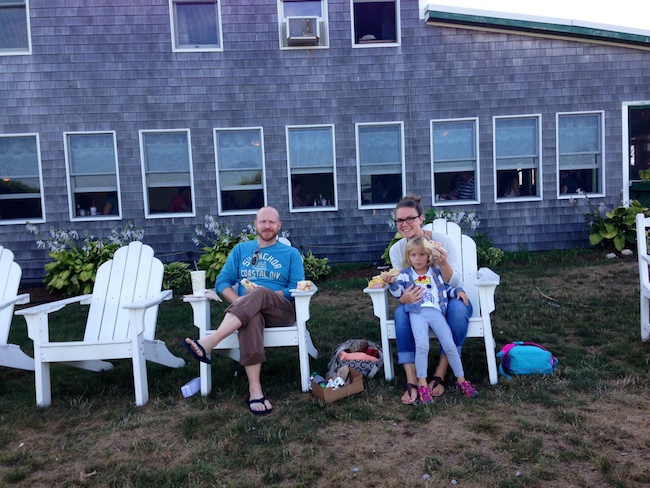 Our actual abode was in Cranston, RI, the neighboring town south of Providence, where our good friend Mary let us stay in here *ADORABLE* condo. We actually did more cooking there than we have in just about any other place we've stayed. It had a great kitchen that was fully stocked and it just leant itself to making ourselves super at home. Plus, Paisley's homesickness was showing pretty badly while we were there, and dinners at home seemed to be an easy fix.

Still, there were plenty of dinners, lunches, and snacks far from the dining room that are worth raving about and putting in any Rhode Island travel plans you may have.

The Lobster Sandwich at Aunt Carrie's

THIS WAS EVERYTHING! In fact, I'm going to do a "best of lobster rolls" when we're finished and I'm pretty sure this is already the winner. It was fully loaded with lobster; they didn't skimp at all. Tip: Lobster sandwich has a few more ounces than the lobster roll and they're basically the same otherwise.

We drove an hour-ish south of Cranston to Point Judith in Narragansett, RI. It was like something out of a movie, or a postcard. Tons of people in shorts and hoodies just chilllling. Aunt Carrie's has been there since 1920. Total shack/dive/hole-in-the-wall, which tells you that it's an amazing experience. And it was. The spot repeatedly turned up for lobster roll reccos, and the trek south made for a really delightful, memorable Friday night.

We sat in adirondack chairs, enjoyed the sea breeze, and then hiked around on the big rocky beach. Sandless beaches are my favorite. Before we left we went across the street to Aunt Carrie's ice cream stand. I don't think it's homemade, but they had dozens of really yummy flavors to choose from.

Chicken and Waffles at Rick's Roadhouse

This was the first meal we had in Rhode Island, and it won. The round, that is. I couldn't put a dent in this massive meal. Rick's claim to fame is that they're the best BBQ in RI; I can't back that up. We wanted to make it back, but it didn't happen. I had just spent a month in the deep south, low country Georgia, and couldn't find this on a single menu. But New England took care of me and surpassed expectations. That chicken was fried to perfection, so juicy and tender inside. The waffle was everything you want in a waffle — and I mean that because they stuffed it with bacon! Our waitress was a delight, the patio enjoyable, and Paisley is still asking to go back weeks later!

Breakfast at Olga's Cup + Saucer

This super cute 'n cozy little coffee shop/cafe is right across the street from Rick's. Shelton and Paisley spent every morning of our two weeks at Olga's, where Shelton said the coffee was fantastic, possibly the best coffee of the trip. The wicked french toast was the result of the only morning I got to tag along (mom spends mornings working!), and it was every bit as damn good as it looks! Brioche, topped with fat blueberries, and what I can only compare to cream cheese cinnamon roll frosting.

The sandwich, Shelton says, was to die for! Every single morning the two of them would share this, a bagel loaded with scrambled egg, tomato, gorgonzola, and bacon. We didn't even eat breakfast at any other spots in Rhode Island.

We spent our last night in Cranston tucked in at Basta with Mary. We probably needed a reservation, and I could have been dressed moderately nicer, but we still managed to completely stuff ourselves and enjoy every minute. The menu was impeccable, just the kind of attention to ingredient quality and sourcing I love. I had a Scampi style Fettuccine, a bowl filled with their homemade pasta, limoncello, grape tomatoes, garlic crema, Vermont butter, parsley, and some big 'ole tiger shrimp. The caesar salad was also one of the best I've ever had. Shelton polished off the linguine, topped with Prince Edward Island mussels, saffron sea broth, caramelized shallots, roasted garlic, and a touch of cream. This is how we eat in front of a registered dietitian; just imagine how we behave the rest of the time!

I talk a bit about this spot in our Newport, RI weekend recap, but it's worth repeating that the view, the food, and the entire experience were prime! Go to here. The lobster roll was pretty good, a generous portion of the 'lob. I found it to be a bit dry, but the side of melted butter they brought me to pour across the top really fixed me right up!

Then there's the legend, the myth, the MAN that was a good burger! Their take on surf and turf was excellent grilled sirloin loaded up with lobster, goat cheese, and a dill aioli. The only thing wrong with this is that he only gave me one bite and we should have gone back for another!

Narragansett was the local brew found to be the tastiest. Of course, you can make just about anything taste good when you drink it at sunset on a boat in Newport!


FOLLOW —> #HappySummr @BrandiK
September 1, 2014

Rhode Island was surprising. Our two-week stay was fuller and busier than I expected. Something like 45 miles by 35 miles, they sure manage to stuff a lot of goodness into a tiny space. No...

June 24, 2014

This is the part two of NOLA, because we literally-slash-figuratively spent all of our time in New Orleans eating and it filled two posts. NOLA Part 1 is here. So, where was I? Stuffed from...

April 22, 2014

We're taking off an adventure unlike anything we've done before. We're doing it for a lot of reasons, and we're very excited to hit the road. Here's the short explanation and some details: We're taking off on a four-month road trip, departing from Wichita on May 22. We'll be back "sometime" in September. So far we've had a massive moving sale, sold one of our cars (the other will sell soon), turned in notice on the home that we rent, and secured a POD for storage.