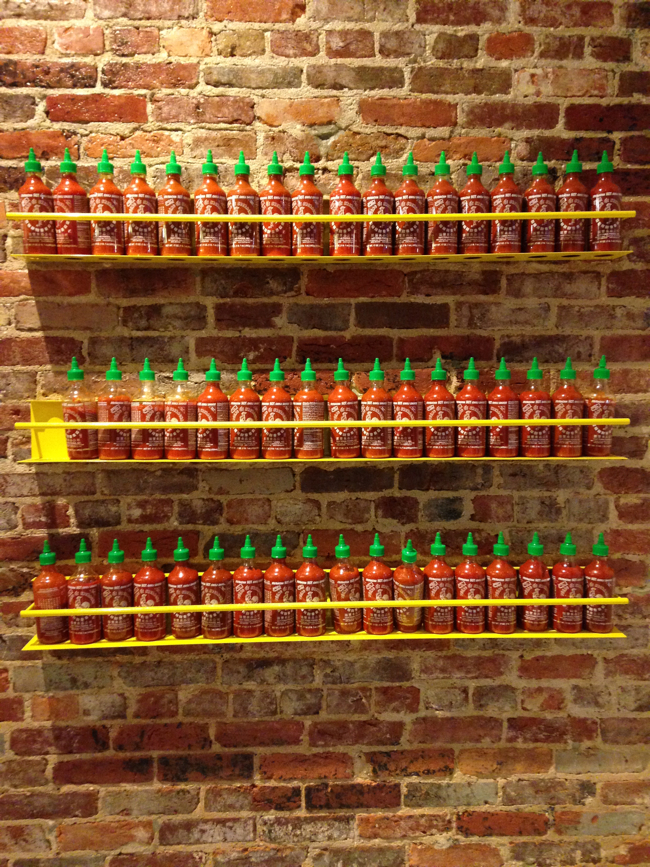 It's been four years since I learned about Shophouse, Chipotle's first spinoff. We reported the concept's opening on DietsInReview.com and I've been itching to try it ever since. I finally got my chance on our stop in DC!

The Southeast Asian Kitchen opened in 2011 and serves up food inspired by Thailand, Malaysia, Vietnam, and Malaysia with the fast-casual's unique spin. I didn't doubt that it could work, but now that I've seen and tasted it for myself, I want this to spread like wildfire. The original shop was in DC, and since then they've opened ten locations in DC, Maryland, and California. Give it time, there's bound to be one in all of our neighborhoods soon…right?

Anyone who knows me knows that I'm a recovering picky eater. I eat rice now, it's a big deal. Asian-slash-"ethnic" food is still a work in progress, but sushi, banh mi, and stir-fry are on the accepted list now. I've heard enough rave reviews that I trusted that Shophouse was going to sit well with me. And oh my word did it!

After an 11 hour drive from Savannah to DC, we arrived tired, hungry, and cranky. We were hangry tourists, hangry Koskies at that. Just get out of the way and save yourselves! Foursquare showed that we were a six-minute walk to Shophouse from the hotel, so at 8pm, dinner was more or less served. We went to the newer location in DC's Chinatown, which gave us an otherwise missed opportunity to take in this part of the city.

From the moment you walk in, Shophouse feels like Chipotle. Only, if Chipotle had a cute Asian younger brother who's really good in the kitchen. And they both look strikingly like their dad. *swoon*

I immediately noticed how smokey the restaurant was — not in a bad way, there was some serious grilling going on in the back. Simplistic design, plenty of seating, and more than enough food and drink choices, Shophouse started off on the right foot.

Like Chipotle, you build a bowl with your choice of meats, vegetables, and toppings. Start with two kinds of rice, noodles, or salad. Then add grilled chicken satay, steak laab, pork and chicken meatballs, or tofu. Green beans and corn are staples, or select seasonal items like kale and summer squash. Finally, choose from two curries or a tamarind vinaigrette and finish with pickled veggies or a green papaya slaw. Just like Chipotle, the bowl fills fast and tall!

I went with the jasmine rice, chicken satay, charred corn, green beans, cilantro, and vinaigrette. I'd have added the slaw but I didn't see it and it wasn't offered. It was divine. I ate the entire thing. The flavors were so smokey and spicy and the meal light and filling. Just what I needed! The green beans, I learned half way through the meal, are one of the spiciest things on the menu. They were really good, but I felt like my lips were blistering!

Shelton had the rice noodles, meatballs (highly rated on Foursquare), charred corn, papaya slaw, toasted rice, and peanuts. He liked his, but wished he'd gone with the rice.

The only thing missing from Shophouse were chopsticks. In fact, I was a bit disappointed that there weren't any available. That was made up for in that an excellent beer selection was available; we took in a Dogfish IPA that had been a local favorite back in Savannah.

I'm happy to now say I've been to all of Chipotle's restaurant concepts — Pizzeria Locale in Denver was a fave and my fan girl-ism hit new heights at the original Chipotle.


FOLLOW —> #HappySummr @BrandiK
April 29, 2014

Who hasn't been inspired by Pharrell's Happy? Paisley asks to listen to it three times in a row, and neck dances the entire time! That song came at a time when I desperately needed an upbeat and positive reminder to just be happy for the sake of being happy. I have to believe that it's touched all of us in a way that we needed. That song is a big inspiration - dare I say theme song - for our trip. Can you say Summer of Happy?

June 24, 2014

This is the part two of NOLA, because we literally-slash-figuratively spent all of our time in New Orleans eating and it filled two posts. NOLA Part 1 is here. So, where was I? Stuffed from...

June 20, 2014

I love food. I love to eat. And if you put me in a new city all I want to do is eat. It's how I travel. It's how experience new places. Sure, your famous...