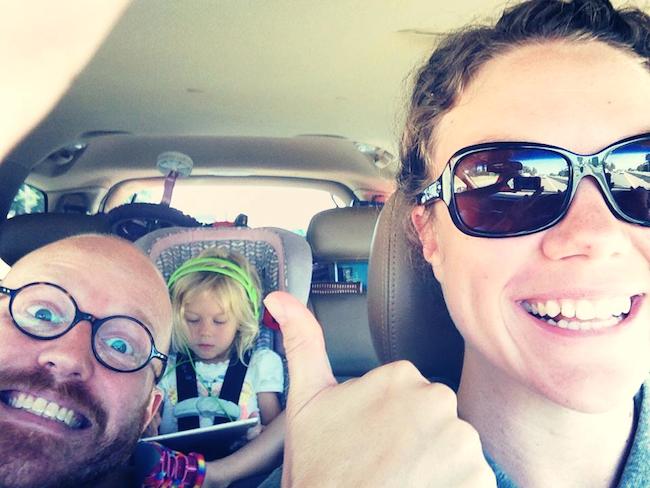 I actually had butterflies in my stomach this morning! Today was the day we'd roll our 10,000th mile! I felt like it added some kind of legitimacy to our trip, or gave us a sense of accomplishment. We left Newport, Rhode Island around 11:00 a.m. and headed back to Cranston/Providence (because someone left her Most Beloved Teddy Bear BFF at our host's house); we had about 50 miles to goal.

Once we were inside ten miles I told Shelton to get ready. I'm so glad he snapped the 9999.9 mile photo because the next second the tripometer rolled back to zero. ZERO! It totally reset and what a lame photo 0.0 would have made.

We were in Seekonk, Massachusetts, just before taking the bridge back in to Providence. We cheered and high-fived, and if it had been legal we may have popped some bubbly!

I keep feeling like we haven't done that much, but this milestone forces me to really look back. This week also marked three months since we left; one-quarter of the year on the road! I'll never regret having done this. In fact, I'll argue this is one of the better decisions I've ever made. It's so freeing. I feel lighter and more at peace, less anxious, and all around happier than I've been in recent memory. It feels really, really good.

Last night in Newport, RI on the Rumrunner II, a 1929 motor yacht cruising the waters between Newport and Jamestown.

After 22 state lines, we've come up with a salutation. "This is where we are." We didn't plan it, it happened quite naturally, and after using it several times it finally dawned on us that it had become a thing.

Every time we get to a new place, or a moment or place is just perfect, or we can't quite believe we're finding ourselves where we are, we stop and say, "This is where we are." It serves as a good reminder to stop and soak in this moment, recognize the leap we allowed ourselves to take, and appreciate the time and space we're in.

Walking through the French Quarter. Watching the sun set over the beach at Tybee Island. Zipping across DC in the cart of a bike taxi. Enjoying 'dogs and beers in Fenway. Picking blueberries in a field with Paisley on a crisp sunny day. Stopping to literally smell the flowers.

Smelling fresh lavender at the botanical gardens in Cranston, RI

Sitting at the foot of the green mountains in Stowe, Vermont, which is where we found ourselves tonight. The three of us raised glasses at dinner and said "This is where we are."

The view from the porch of our AirBnB rental in Stowe, VT. It babbles… what?!

Those are just a few of dozens of moments where we've stopped, looked around, and almost felt out of body. Three months later, 10,000 miles later, it all still feels so surreal. Perfectly sublime.

It's a good reminder that even when we're home, to stop and appreciate where we are and linger in that exact moment. You don't have to flip your life upside down to appreciate the minutiae.

PS — Happy HAPPY Birthday to my beautiful mama today! She was the first person who I talked to about taking this trip, like I needed her permission. She gave it whole heartedly. Love you lady!!


FOLLOW —> #HappySummr @BrandiK
April 22, 2014

We're taking off an adventure unlike anything we've done before. We're doing it for a lot of reasons, and we're very excited to hit the road. Here's the short explanation and some details: We're taking off on a four-month road trip, departing from Wichita on May 22. We'll be back "sometime" in September. So far we've had a massive moving sale, sold one of our cars (the other will sell soon), turned in notice on the home that we rent, and secured a POD for storage.

August 30, 2014

Our actual abode was in Cranston, RI, the neighboring town south of Providence, where our good friend Mary let us stay in here *ADORABLE* condo. We actually did more cooking there than we have in...

July 6, 2014

No one may carry an ice cream cone in their back pocket if it is Sunday. There is no shortage of dumb laws on the books, and this gem hails from Georgia. Before we started...