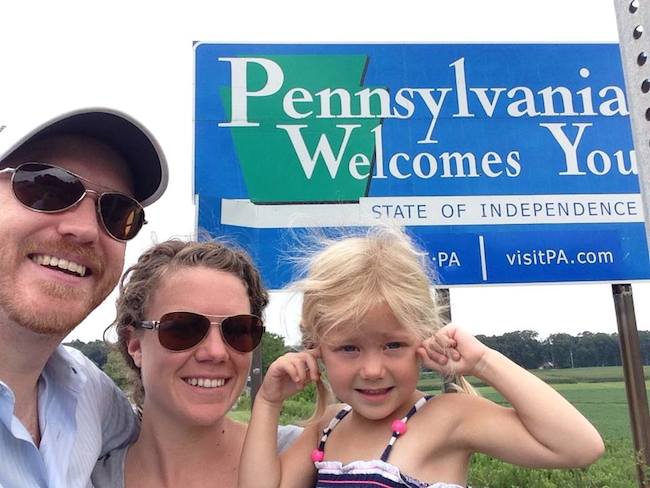 The entire world's been holding out on me. Who knew Pennsylvania was so gorgeous? I mean – jaw dropping, can't stop oohing and ahhing – gorgeous! It's all so lush and green with rolling hills, thick trees, quaint farms, and extremely well maintained roads. It's enough to almost make me want to live there.

After leaving running for our lives from Savannah we settled in Columbia, Maryland (just outside of Baltimore) for about ten days. During our one weekend there, in true #HappySummr fashion, we plotted a day trip and Pennsylvania won. None of us have ever been, but the state, surprisingly, offered quite a lot. We pointed our wagon toward Hershey, because, chocolate.

It was a short, easy drive just shy of two hours. To get to Hershey you have to go through the capital of Harrisburg. We were hungry and felt like we needed to power up on protein before we entered the chocolate factory. Foursquare suggested Appalachian Brewing Company, and who are we to say no to that? A big selection of beers that were decent, but the non-alcoholic brews were better. They make their own ginger beer and root beer and I took down both.

I offered them to Paisley, she declined. I asked if she was sure and encouraged her to try the ginger beer, knowing how much she likes ginger anything. Tears! Full-blown hysterics from this one. I'm baffled and press her to find out how this is something that makes her cry.

"I CAN'T DRINK BEER!!!!" is what she sobbed. Break my heart, and make me laugh so hard I split my spleen. Once I convinced her it was safe for a kid to drink she was also a big fan.

From the brewery we could see the dome on the capital building, so we figured it was worth a drive around the block. Of the entire day, this was one of the most surprising stops. This building is spectacular. This has to be the most beautiful of the capitals; it was so grand without feeling overdone.

As we left, Hillary's pre-campaign bus rolled by.

Finally, the moment mostly Paisley had been waiting for all day – Hershey, Pennsylvania! The home of the world's most famous, worst tasting chocolate is nestled in to the rolling green hills of the Appalachians. You know when you drive by a Krispy Kreme and they pump the glaze in to the air so anyone in a three-mile radius can't help but crave a donut? I expected this at Hershey. I smelled exactly zero chocolate. You don't actually get to go to the factory, instead you go to Hershey Chocolate World! It shares a parking lot with Hershey Park, where for $200 you can ride roller coasters.

At Chocolate World you get nickled and dimed (where by nickles and dimes are at least $15 a piece) to do anything — trolley tour, 4D movie, and a bunch of stuff we skipped. The crowd was worse than Disney, the lines were maddening. So, we appeased Paisley's desire to "go to the chocolate factory" with the free theater simulated factory experience. Singing stuffed cows and water running over dark brown pipes to replicate bubbling melted chocolate were as close to the real magic as we were going to get. We didn't even get Hershey's chocolate at the end!! Instead a free sample bag of those terrible little Brookside "pomegranate" chocolate candies were handed out. Paisley was satisfied and that's all we needed. Forty-five minutes later we were back in the car.

From there we drove about an hour to Gettysburg, because the history geek needed something out of the day, too. You guys! It was lovely. We spent a couple of hours wandering around the downtown/main street district. We moved in and out of little shops and stores, fawning over hand-made Pennsylvania Dutch blankets and other crafts, and a museum's worth of historical artifacts.

We drove past the cemeteries and battlefields, as we hadn't plan on making the stop in Gettysburg at all. But again, just beautiful countryside. Of course I'd have loved to have gotten lost in that experience too, but maybe we saved a little something for next time. Pennsylvania is definitely at the top of a short list of places I'd like to visit again and spend a little more time.


FOLLOW —> #HappySummr @BrandiK
June 24, 2014

This is the part two of NOLA, because we literally-slash-figuratively spent all of our time in New Orleans eating and it filled two posts. NOLA Part 1 is here. So, where was I? Stuffed from...

June 16, 2014

The first time I ever had Chipotle was a hot and spicy revelation! How could food — fast food — be this good? I had it for lunch and then again for dinner that night...

August 21, 2014

We went out to the ballgame and had a much better time than expected! We are college football fans — specifically OU football fans. After that, our attention span for sports falls off. However, I...