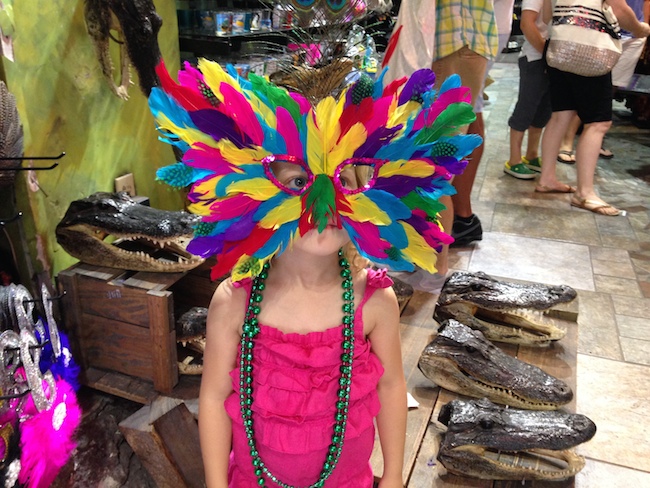 This is the part two of NOLA, because we literally-slash-figuratively spent all of our time in New Orleans eating and it filled two posts. NOLA Part 1 is here.

So, where was I? Stuffed from the best brunch ever with our friends The Farmers, we made our way to the French Quarter. They were kind enough to give us a ride and give us some locals-only pointers along the way. Steve is a NOLA boy, err man. We didn't even need Foursquare with him around! His instructions were simple — po'boys at Mother's, beignets at Cafe du Mode. Consider it done!

It was hot and steamy in New Orleans, like a whole other level from Wichita. Granted, we're down in the swamps, next to the gulf, what did I expect? Well, I'd just spent a month in Denver basically being spoiled by the weather. That didn't slow us down though. We dug right in to the French Quarter and walked the entire length up one side, made the turn with a wander through Jackson Square and back out the other end.

I really think it was the most colorful, vibrant place I've ever been — and it was still broad daylight! We took in every kitschy tourist shop, stopped to watch every sidewalk performer, and gawked at all the architecture. Really took in the flavor of the scene!

We bought these from the artist in Jackson Square. Can't wait to hang them in our new home!

Jackson Square was one of my favorite spots on the entire French Quarter tours. It had the most art, music, and action while also giving us a place to take a breather. Clearly, some of us needed it more than others. This kid straight passed out on the sidewalk. I make a good pillow.

This kid… you guys. I just have to stop for a minute and talk about what a freaking rockstar she has been. Do you have ANY idea how many miles those tiny-but-mighty legs have logged this summer? We walk everywhere. And she just tromps alongside us, no complaints, no fussing, just taking it all in. So when the kid needs a cat nap in the middle of the street? Oh, she gets it.

This next shot, it's probably top three favorite of the entire summer. We were wandering the French Quarter, she was all attitude, and she needed a break. Just one of those lucky snaps that you get sometimes. I love her.

After this, it was time we all took a load off. The plan was to meet back at Kenlie's place (reference made in part 1: a good friend who generously let us crash at her place and show us a good time!). Drenched in sweat, legs screaming, and ready to do absolutely nothing, we made it back to Kenlie's where the A/C lives in a meat refrigeration zone. Paisley was the first to pass out and suddenly we were all splayed out on couches and beds enjoying one heck of a massive Sunday nap. It was divine!

Yes, those are mardi gras beads and I paid honest money to get them.

After the naps, we shook off the grog and set back out for the French Quarter. This time for food! With Steve's recommendation, and Kenlie backing it up, hi-ho hi-ho it was off to Mother's we would go. We were told if you want a legit shrimp po'boy, that was the spot. And I'm not one to argue with a real life Cajun, so we went, and just in time too, because apparently the line can wrap the block. They have security/bouncer guys managing the door! To a diner!

This thing was not playing. And ordering was not for amateurs — think Seinfeld's Soup Nazi and do not ask questions or make things more complicated than necessary. We would have a few more po'boys during the trip, but this one was undeniably the best one. Man… now I want one! Stuffed with fried shrimp, shredded lettuce, mayo, and pickles, it got the job done. I should have only eaten half, but no, I took it down! And you better believe I went straight for the Zapp's Crawtators! My pals at The Flying Stove had tuned me in to that goodness a long time ago.

Stuffed. I mean, just wallowing in my own stuffed-ness, we wandered our way to Cafe du Monde.

Cue: The Little Mermaid singing ah ah ahhhhhh ah ah ahhhhhhh.

Years, maybe multiple decades, I've waited to eat there. Whatever voodoo was at play that night, we basically had no wait. I don't think that ever happens. We sat right down at a table inside (all hail A/C) and were immediately served ice waters. No idea what I was getting myself in to, we ordered three plates of beignets. Do you know what these are? Fried dough drenched in powdered sugar. I mean DRENCHED! As in — dig through this little sand box of powdered sugar and see if you can find your famous French doughnut down here — drenched.

Ohhhhhh my gosh they were hot and chewy and sweet and better than I'd hoped. I ate two and should have stopped at half. Oof! For someone who doesn't eat much sugar, that was a lot. No regrets though. They really are incredible.

The only one of us who could really pull off the hat. And yes, she got a beignet, too!

After that, we made our way home to Kenlie's for an exciting night of showers, laundry, and plotting the next day's course (which would take us to Disney World). A million thanks to Kenlie for her hospitality!!

One more fave pic, just because.


FOLLOW —> #HappySummr @BrandiK
August 21, 2014

We went out to the ballgame and had a much better time than expected! We are college football fans — specifically OU football fans. After that, our attention span for sports falls off. However, I...

August 3, 2014

If I haven't made it abundantly clear, I'm a total history geek. As a kid, I couldn't get enough History Channel. It was the first advanced/AP class I took in high school. I nearly minored...

April 22, 2014

We're taking off an adventure unlike anything we've done before. We're doing it for a lot of reasons, and we're very excited to hit the road. Here's the short explanation and some details: We're taking off on a four-month road trip, departing from Wichita on May 22. We'll be back "sometime" in September. So far we've had a massive moving sale, sold one of our cars (the other will sell soon), turned in notice on the home that we rent, and secured a POD for storage.