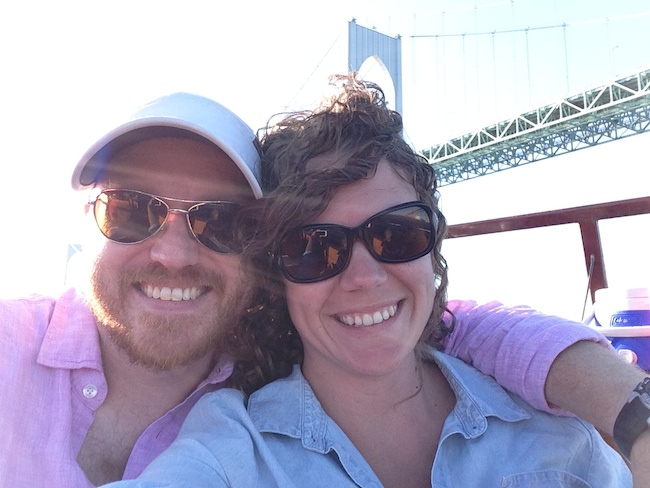 Stand at any point in Newport, RI and you'll find yourself smack dab in the middle of a Sperry ad, or a Ralph Lauren ad, or a Nautica ad. It was quite possibly the most overtly pretentious place I've ever been (and I once spent a week in Boca Raton), and yet, it was perfectly lovely and divine. Located out on the southern tip of Aquidneck Island, it's the easiest, breeziest place we've been yet.

It lived up to every stereotype and assumption you may have — everyone in stripes, primarily navy. If you can print a whale, anchor, or lobster on it, people are wearing it. Everyone just seemed super young, super tan, super rich, and super happy. I'm two of those things, arguably one of them, and further from one all the time. It was just like a whole other world; it felt as far removed from my own reality as I felt in the deep south in Savannah, Georgia. To that, I'll add, that every single person we encountered was incredibly nice and friendly!

We spent our last Friday night (August 22) in Rhode Island out in Newport, an easy 45 minute drive from our apartment in Cranston/Providence. We drove with the windows down, crossed two massive bridges, and let the salty air rush over us. Oh my word it just felt so good! Parking was a trick, and when we finally swallowed the $25 parking fee it was no longer a trick. Funny how that works. We quickly made our way down to Bowen's Wharf, which seemed to be the epicenter of the island town's activity. Somehow, on a packed-house kind of Friday night, we were seated immediately at The Lobster Bar.

The restaurant sits on a working dock with tanks that greet you at the door with lobsters weighing 1.5 pounds up to eight! I'd love the opportunity to try and eat eight pounds of lobster at once. We sat on the dock, took in the sunset, and watched the sailboats easily drift in and out of the harbor. I enjoyed a tasty lobster roll — very good, not the best I've had though. Shelton took down the most impressive burger — sirloin, lobster, goat cheese, arugula — it was like a piece of art. That he devoured.

After that we just wandered around and took in the very busy, very happening scene. Paisley wasn't the only child out and about, but it was easy to see we'd have had a better, different kind of time on our own. Nevertheless, our consummate travel mate was welcome company, who climbed on anchors and spent a lot of time not touching things in stores. Every inch of space of the wharf is packed with boutiques, souvenir shops, bars, restaurants, and sailing kiosks.

We enjoyed our time in Newport so much that when we had to fill one of the only voids in our calendar — Sunday, August 24 — we rented a room and headed back. We took off from our incredible host's house in Cranston around noon and made it to Newport in time to see a different side of the island. Booking a room was not easy; most were going for $250 upwards of $700 for the night. We tucked in to a precious little B&B for $150 — The Cleveland House.

We've only ever had one other B&B experience — borderline terrifying and bizarre. We were leery, but pleasantly surprised and enjoyed our short stay. One tiny room is fine for us, but you'll play hell keeping Paisley still and quiet enough to not bother anyone else. Out we went! We walked a few miles around Newport, in and out of the wharfs, boutiques, and down to the one patch of sand we could find.

That water was cold!! This was not the beach at Tybee Island in Georgia, which I was prepared for. Paisley? Didn't know what was coming!

We spent the rest of that Sunday afternoon trying to make our way on to a boat, preferably a sailboat. The first kiosk had space, but Paisley was too young. The next was sold out. The next had two, not three, tickets. The fourth and final was sold out. So we circled back to the second spot and got three seats on their 5:30 non-sailboat cruise. They don't call it a booze cruise, but I will, because that's basically what it was. It wasn't rowdy and crazy, but the complimentary drinks — a variety of beers and their own rum punch — flowed freely.

Out of two days in Newport, this was the best part. We set sail on the Rumrunner II, a 1929 motor yacht, for a sixty minute cruise around the water between Newport and Jamestown. It was a total "This is Where We Are" moment. Even Paisley looked up at one point and said, "Mommy, I love this soooo much!"

The slow jams helped rock our little boat through the water, passing a lighthouse, underneath the Claiborne Pell Suspension Bridge, out by the mansions in Jamestown, and around the house I now covet above all others.

It's over a century old, was last purchased in the 60s for $3600, has Vanderbilt and Wharton ties, and is completely off the grid. We were given some short details about it, but the story is really fascinating and the NYTimes tells it better than I can.

We cruised back to port, had a really terrible fish 'n chips dinner, enjoyed a delicious soft serve cone, and then wandered back to our room for some hard earned early bedtimes all around.

The next morning, we were up and at 'em for the jaunt to Vermont.


FOLLOW —> #HappySummr @BrandiK
August 3, 2014

When we started this adventure, we knew that we'd need something more than a hotel to sustain us for nearly five months. Without hesitation, AirBnB was our choice for accommodations. We'd used them before and...

April 22, 2014

We're taking off an adventure unlike anything we've done before. We're doing it for a lot of reasons, and we're very excited to hit the road. Here's the short explanation and some details: We're taking off on a four-month road trip, departing from Wichita on May 22. We'll be back "sometime" in September. So far we've had a massive moving sale, sold one of our cars (the other will sell soon), turned in notice on the home that we rent, and secured a POD for storage.

July 19, 2014

We woke up this morning and decided to get the heck out of Savannah. Not for good, but a day trip to Charleston, South Carolina, just two hours up the road, seemed liked a fun...