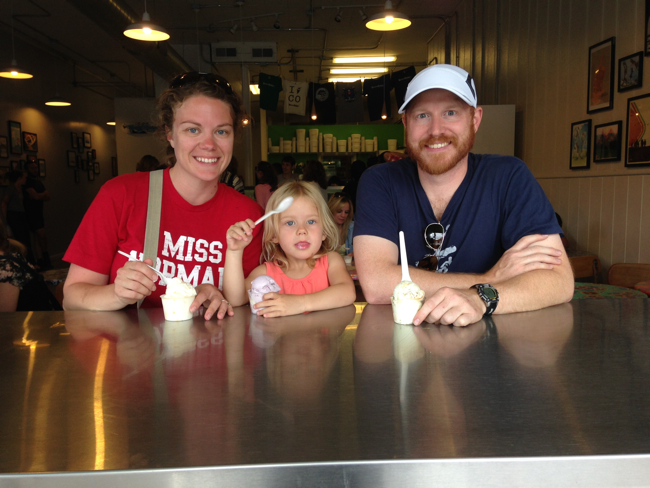 I love food. I love to eat. And if you put me in a new city all I want to do is eat. It's how I travel. It's how experience new places. Sure, your famous tower/fountain/building/theater/garden is super cool and special, but pray tell where to find the best chicken/ice cream/pizza/burger/beer…

In Denver, it's an insurmountable task, enjoying all the food. There was only once place we ate at multiple times (because it was walkable, cheap, healthy, and good for those what do we do tonight nights). Otherwise, we never had the same thing twice. Every day was an adventure from breakfast through dessert. Thrillist just named Colorado as the 17th best state for food, and while I haven't traversed much of the state, I'd say it racked up most of its points in the mile high city.

Here's where we ate, what we ate, and where you should eat the next time you find yourself hungry in Denver.

This is my hands down favorite place to get breakfast in Denver. Going on about five years, it's a must every time we're in town. Every Sunday morning the front case is jam packed with homemade brownies, cakes, pies, and cookies; nothing I can touch that early in the day. But one evening, our sweet tooths ventured over to the shop for a dessert-only visit. Who knew, all this time, that this hedgehog was waiting for me back there. I'm calling it their signature dessert, who the hell knows if that is true or not. But if I made a softball of red velvet cake, stuffed it full of cream cheese frosting, and then drenched it in chocolate ganache, it would be my signature everything. We each got one of our own, and let me just say, the hedgehog won.

Order Anything — Pizzeria Locale

Imagine this — Chipotle buys in 50% to a startup pizza concept in Denver. Well, this is it! You can absolutely see and taste the restaurant's influence, and it's the most unique pie I've ever had. At least in experience. Walk the toppings line just like you would at Chipotle and the chef rolls the dough and tops right in front of you. By the time you get your receipt, a piping hot, fire-baked pizza is handed to you in their proprietary, rocket science oven. They slice the prosciutto right in front of you. The mozzarella is very real and yet like a dream. The salad bar works the same concept and there are $5 glasses of wine. Don't overlook the courtyard like we did — sit out there!

Strawberry Ice Cream — Little Man Ice Cream

This is one of the few places we go every single time we're in Denver. Handmade, small batch ice cream using local ingredients. It's the cool local ice cream spot, like Salt & Straw in Portland, Leopold's in Savannah, or Diddy Riese near UCLA, but with MUCH more personality. It is my favorite ice cream. I always get a single scoop, but half fresh strawberry and half vanilla. They have things like salted Oreo if you want to go nuts, but those flavors are so fresh and so pure I can't bring myself to try anything else. There is usually a line that wraps the block, stand in it. It moves quickly and is well worth the time. Plus there is always live music playing, a slide, hopscotch, or legitimate people watching to keep your ADD brain entertained.

Stranahan's Whiskey Brickle — Sweet Action Ice Cream

OK, there was a spot in our neighborhood, specifically South Broadway, that also makes small batch, homemade ice cream. And it was very good; I'm still crowning Little Man the winner here, but this was worth a couple of stops, too. I went straight for the Stranahan's Whiskey Brickle, made with locally crafted Stranahan's whiskey. There's usually a line too, it doesn't move very quickly.

This was one of the nicest meals we had in Denver. As in no baby, no need for crayons or a kid menu. Just the two of us, two of our best friends, and seatings ahead of the happy hour cut off. This calamari was out of the world, the very best I've ever had. And the lemon aioli on the side? Well, there simply was not enough of it. I don't even remember what I had for dinner there, the calamari and a very good Moscow Mule are all I can recall of this new hip spot on Broadway.

Salted Caramel Apple Pie — Humble Pie

Every Saturday morning we went to the Cherry Creek farmers market (which in and of itself should have its own 10 things you should eat list). The very first booth is Humble Pie, whose pricing is anything but humble (at $22 for a full) but completely deserved. So every week I'd have the sample bite and then move on. We finally visited their super cute little shop in the Baker neighborhood and I bought and ate an entire mini pie. Salted caramel apple pie, people! How can you not?

image borrowed from thatsnatural.com because my camera ate and lost all of my photos…

The Real Dill Pickles — Cherry Creek Farmers Market

I'm sure they sell them other places, but this is where I procured these incredible "hand-crafted artisan pickles." Since I learned how to make a damn good pickle recipe last year, I can't buy that Vlasic store-bought crap anymore. We had the jalapeno honey variety, and even Paisley gobbled them up. Sweet, tangy, kickin' pickles that I ate with nearly every homemade meal we had (excluding lunches, was four times in a month). $12 for the jar felt more than fair for these huge honkin', big tastin' pickles.

The Ellsworth — Denver Biscuit Company

They have a food truck that rivals most others at, you'll never guess, the Cherry Creek farmers market! But at 9:00 in the morning I couldn't bring myself to order the $9 fried chicken on a homemade biscuit with pickles, and mustard, and who knows what else. So we went to their physical location for dinner one night. Surprise! They switch from biscuits to pizza at 2pm! Hangry, disappointed, I ventured back another day during lunch. My wait was well rewarded. Juicy, tender, perfectly fried chicken placed tenderly between a larger than life buttermilk biscuit drenched in honey and served with homemade raspberry jam…. I mean what else is there to even say about this?

Moscow Mules — Ale House at Amato's

I'd never had a mule. I'm not much of a liquor or cocktail drinker, I prefer my beer and wine. And there was plenty of the former in Denver! But with the Denver Passport, I couldn't say no to trying one when they were a BOGO deal! We had a classic mule, with vodka, and one doctored with whiskey. Both were delish. Both were super refreshing. And I'm completely taken by the little copper mugs. We tried mules in a few places, but Amato's really stuck with me. Like they say, you never forget your first.

no actual photo because, the whole picture vanishing thing…

My love affair with Chipotle is real and deep and I remain loyal and true. But I couldn't pass up another local Mexican cuisine afficianado, especially one so close to the house, so affordable, and with a bangin' full bar. This is the spot we visited more than once (a week)! You've got to wait a few extra minutes, but the fish tacos at Illegal Pete's are legit. Deep fried tender pieces of white fish are wrapped in soft tortillas and served with a tangy little slaw topping. Two or three will set you right. Grab an Upslope Craft Lager from the friendly bartender, then head outside for some bocce ball!


FOLLOW —> #HappySummr @BrandiK
June 16, 2014

The first time I ever had Chipotle was a hot and spicy revelation! How could food — fast food — be this good? I had it for lunch and then again for dinner that night...

September 1, 2014

Rhode Island was surprising. Our two-week stay was fuller and busier than I expected. Something like 45 miles by 35 miles, they sure manage to stuff a lot of goodness into a tiny space. No...

August 25, 2014

Stand at any point in Newport, RI and you'll find yourself smack dab in the middle of a Sperry ad, or a Ralph Lauren ad, or a Nautica ad. It was quite possibly the most...