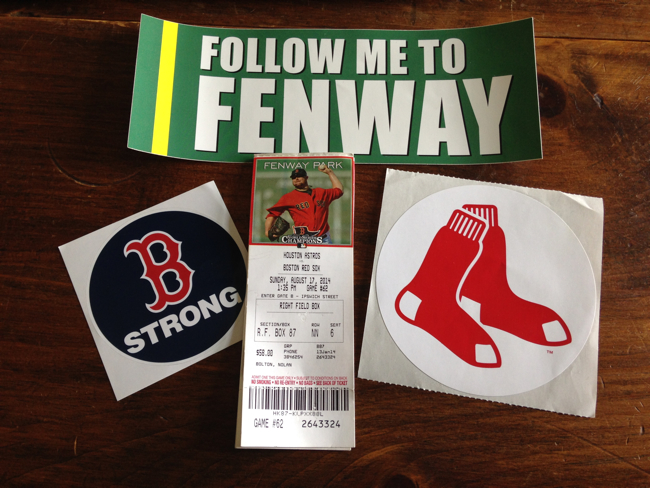 We went out to the ballgame and had a much better time than expected! We are college football fans — specifically OU football fans. After that, our attention span for sports falls off. However, I do love to romanticize baseball — a summer afternoon, a beer, a hot dog, the national anthem — it sounds like a perfect day. And ours was just that thanks to the Red Sox!

We don't have any team affiliations, so it didn't really matter who was playing. But there was something about going to see the famed Red Sox inside Fenway in Boston that just really tripped my trigger. Their home schedule worked out that the one hour jog up to Boston was a no brainer. Finding tickets, however, a little trickier. This wasn't something either of us were willing to spend a couple of hundred dollars on.

This next section involves some sponsorship. ScoreBig.com provided me with a $100 credit toward any tickets of my choosing. My only obligation is to disclaim the relationship and write the review, after that, the words and opinion are my own.

When ScoreBig.com reached out asking if we'd like to check out their new service in exchange for a review, I knew I wouldn't have a cheaper way in to that Red Sox game. So I happily accepted their $100 credit. It's a ticket sales site that guarantees you'll save on every ticket you buy, up to 60% savings. They also don't tack on any fees, nor do they charge for shipping tickets. Pretty sweet, right? They had tickets available for the Sunday, August 17 game against the Houston Astros, so I scooped up three.

It works through a sort of bidding system. You can choose one to four star tier seats; I opted for two star since three and four weren't available. It recommends a range within what you may find tickets priced for. I put in $50 per ticket — bid instantly declined. It recommended $56, so I accepted. Boom, three tickets to the Red Sox! The total was $168, less the $100 credit, so I paid $68 to get in to the game. Did I save? Well, excluding the credit? Not really. Without the credit, ScoreBig.com would have only saved me $2 off each ticket, as the face value was $58 each. That's a 4% savings.

I looked at DMB tickets, too, and it said other customers saved up to 25%; same presumed savings advertised for OU vs K-State tickets. I wanted to find out for certain what the rates would be, because I actually want to go to an OU home game in a few weeks, but the site won't show what your bid will score you unless you plug in payment details and get charged. I'm not that committed to the game yet.

end of sponsored content

We were really happy with our seats. Told we were sitting with the "Southies," the rowdy section of the stadium with a clear shot of the press box and right under-ish the big screen. It was photo op city in there and we took advantage!

The looming threat of dark storm clouds passed us by, thankfully! Although, once those passed, we were roasted like hot dogs!

What I saved on tickets I went ahead and spent on $9 beers. Never ceases to amaze me that they can get away with charging that. Hi, I'm cheap! I enjoyed a few Sam Adams Summer Ales, which actually felt more like a micro brew since we were in Boston. I bypassed the hot dog I'd been saving myself for and instead got a smoked Italian sausage, and it was one of the best food decisions I'd made in a while! I was completely stuffed and convinced myself not to go back for more.

Paisley loved all the music and asked a hundred questions about the game. She proudly recited the Pledge of Allegiance while dawning a "My First Game at Fenway" button given to her by the usher, Bob. She kicked back snacking on peanuts and taking in the scene.

We got to watch a grand slam and saw seven of the points the Astros scored against the Red Sox; I believe that game ended 8-1 in Astros' favor. We left at the top of the 7th inning pretty happy campers.

We parked just outside of town in Brookline, MA and took the train in and out, which just added a bit of fun to the adventure. We didn't have to pay to park and we didn't have to fight traffic. Now that's a score!

Somehow sitting around a ballpark all day can suck the life out of you, because we were three piles of exhausted mush when we returned home.

Oh! And by the way, tooootally shared air space with Matthew McCaunaghey! (Thanks for the head's up, Chad!) Yeah, he was there, sitting across the stadium from us. Our seats were really good so he wasn't able to make his way over to us. But, ya know, next time.


FOLLOW —> #HappySummr @BrandiK
June 20, 2014

I love food. I love to eat. And if you put me in a new city all I want to do is eat. It's how I travel. It's how experience new places. Sure, your famous...

May 25, 2014

On our first Sunday in Denver, we woke up and decided we wanted to see the mountains. Actually see them, not just take in the beautiful silhouette that hangs out at the end of our...

August 3, 2014

If I haven't made it abundantly clear, I'm a total history geek. As a kid, I couldn't get enough History Channel. It was the first advanced/AP class I took in high school. I nearly minored...