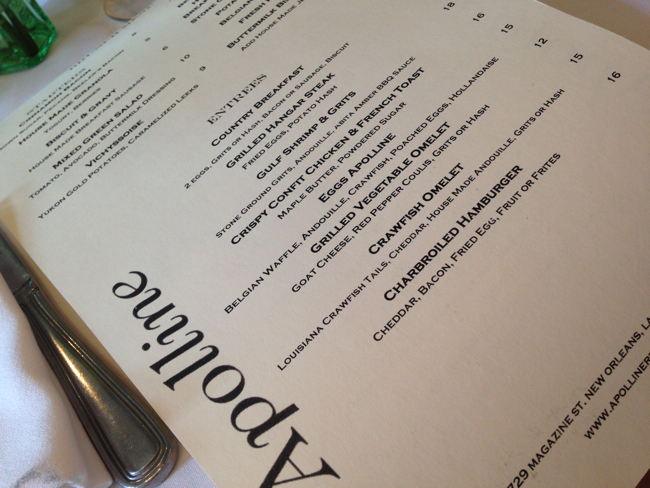 This is a part one of two because we literally-slash-figuratively spent all of our time in New Orleans eating…

Let's be honest, we went to New Orleans to eat. Or at least I did. It was our shortest stay, so we had to make the most of it. I don't even know if there are actual things to do in NOLA because all I ever hear anyone talking about is eating and flashing their boobs. We were mostly there in broad daylight with my four-year-old, so we stuck to the food. #HappySummr now mostly gets accompanied by #FatSummer.

NO JOKE – we had been outside in New Orleans for less than ten minutes. I turn around, she's wearing beads. Do they just fall out of the sky around here?

This was our first stop that was new to me and I was thrilled to be there! We arrived close to 11pm on Saturday, June 21. That's a far cry from the "dinnertime" arrival we'd promised our incredibly gracious and humble host, Kenlie! See, we'd left Denver at 11:55pm on the 18th and drove all night to Kansas, getting in to Wichita at 9am the next day. We had a whirlwind 36 hours "at home" and took off around 11pm after a James Taylor concert. We landed in OKC at Shelton's parents' house at 2am, took a five hour nap, and then got back in the car for NOLA on Saturday morning. So by the time the bright lights of the French Quarter were blinding our weary eyes, we were EXHAUSTED!!!

There was no time to think about that, or even allow our bodies to feel that. The marathon Cajun food fest had to get under way as soon as possible. It was late, we were hungry, our hostess had waited herself into hunger, and so, we ordered pizza. I don't know where it came from, I don't know what was on it. I know it was really good and went well with the local Abita beer I washed it down with.

I get to wake up to this every. single. day.

Then, we crashed so hard we may have slipped in to comas. Kenlie's got a mad comfy bed, the only bed in her absolutely gorgeous, adorable apartment on the edge of the French Quarter. She gave us her bed you guys…and slept on the couch!! So of course we're, like, forever in her gratitude for hooking us up with a place to stay. She made instant BFFs with Paisley for offering up a Frozen DVD, game of Sorry, and a cozy blanket. I mean, is there a Cliff Notes for Paisley out there that I don't know about?

So the next morning, we took our sweet time sleeping in before preparing for the ultimate Sunday Funday! Our very good, very best of friends, The Farmers from Wichita, also happened to be in NOLA. In fact, we met up at the state line for Louisiana/Texas because we were only five miles apart on the road. What are the odds?! <– serious trip highlight!

Can you tell Shelton had just spent a month in the mountains? Paisley's alter ego #OneEyedKenny.

Steve is a native, and his nephew is the executive chef at this impeccable restaurant in [some neighborhood I won't pretend to know the name of]; but it was colorful with mardi gras beads strewn across every tree. Sunday brunch was a no brainer — we met up with Steve, Ria, and Anna at Apolline.

at the corner of Bordeaux & Magazine

I don't know if it was the exhaustion, the exceptional company, the high of being somewhere so very new, or a lethal combination of all three — but I felt joy!! I felt joy like I hadn't in so very long, and I laughed belly laughs, and I just soaked up that time in that place with those people. The bloody marys were like something off of a Food Network competition.

I helped Ria with the garnishes, but she handled that bloody like a lady!

The shrimp – OMG YOU GUYS THE SHRIMP – damn near made me cry. I live in a land-locked state; this shrimp that had probably been caught the previous day, was so sweet, so tender, apparently the way shrimp is supposed to taste. (I'm looking at you frozen shrimp in Kansas!) The bacon was an absolute treat – baked with brown sugar and pecans. I mean my God, how is that even fair? You can't compete with that!

After pouring over the menu, reconciling that no, vacation or not, I could not order everything on the menu, choices were settled upon. The table agreed there would be much sharing, so that made me feel a little better about going with the crawfish omelette.

Anyone who has spent five minutes with me knows that while I love really good, incredible food, I'm not terribly adventurous. I'm a cautious foodie; a recovering picky eater. I figured when in "Rome," and went with the most local fare I could identify on the menu. And my leap from the norm rewarded me with one of the best things I'd eaten in a very long time. I was completely surprised by how delicious it was and how I completely devoured it.

Shelton ordered the Crispy Confit Chicken and French Toast. We were in the south and that seemed like the right thing to do. But this ain't no chicken and waffles, and I think we felt a little sad by the arrival of a roasted chicken quarter, at first. But it only required one bite to reconcile that this unexpected turn was actually better than we could have hoped. The chicken was so tender and that homemade maple butter had something going on that I can't recall right now — just get this if you got to Apolline, OK?


The Farmer side of the table also had this chicken dish, both plates wiped clean of course. They also ordered the Eggs Apolline, a signature dish piled high with belgian waffles, crawfish, andouille sausage, poached eggs, and hollandaise. Eggs Benny on crack, basically!

A bowl of the Gulf Shrimp and Grits was also polished off, loaded with fresh shrimp, andouille, grits, and a barbecue sauce made with Abita ale.

I washed the entire meal down with a bottomless mimosa — because I'm also under the impression when you're in NOLA it's acceptable to drink early and often.

To Matt Farmer and everyone at Apolline – thank you for one of the very best meals I've ever eaten! It was a perfect introduction to Cajun cooking, and your beautiful restaurant provided the best backdrop to catch up with our dearest friends before rushing on our separate ways.

Paisley is BAWLING in this photo because she refused to order food, and was then shocked when she didn't get a plate.

After brunch, the Farmers were nice enough to drive us down to the French Quarter with some specific instructions for our next moves. More on that to come in NOLA part two…


FOLLOW —> #HappySummr @BrandiK

thanks Ria, for sharing some of your pics!
June 18, 2014

This little black book has quickly become a key part of our Summer in Denver arsenal, and my favorite souvenir from our month here. It's called the Denver Passport and it's the best drink deal in...

April 22, 2014

We're taking off an adventure unlike anything we've done before. We're doing it for a lot of reasons, and we're very excited to hit the road. Here's the short explanation and some details: We're taking off on a four-month road trip, departing from Wichita on May 22. We'll be back "sometime" in September. So far we've had a massive moving sale, sold one of our cars (the other will sell soon), turned in notice on the home that we rent, and secured a POD for storage.

August 8, 2014

The entire world's been holding out on me. Who knew Pennsylvania was so gorgeous? I mean – jaw dropping, can't stop oohing and ahhing – gorgeous! It's all so lush and green with rolling hills,...