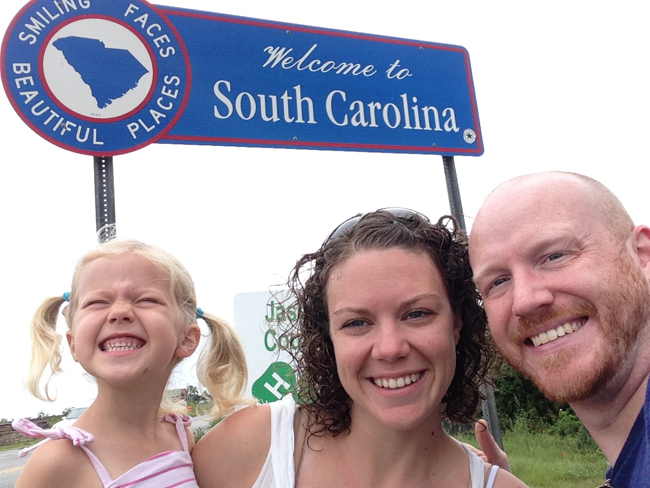 We woke up this morning and decided to get the heck out of Savannah. Not for good, but a day trip to Charleston, South Carolina, just two hours up the road, seemed liked a fun break from what has become our temporary norm.

Imagine, if you will, but this was the first free Sunday we've had since before we actually embarked on this trip; I'll go so far as to say the first free Sunday since before Easter. And since we spent yesterday (24 hours of solid rain) just hiding out in our PJs, baking cookies, and taking naps, we needed a little adventure. In Denver, we took off on little day trips every weekend; so far I've told you about Guanella Pass and need to catch up on the others.

After breakfast, with little to no prep, we very fun-taneously™ jumped in the car and headed north, east, ish. We finally had a reason to cross the Savannah River Bridge, or what may be more accurately and less layman-ly referred to as the Talmadge Memorial Bridge. It is a serious sight; one of the most remarkable things on an otherwise nonexistent skyline. It is a beautiful spectacle, one I've been gawking at for almost three weeks. She was impressive in person and gave some much needed perspective on the landscape around us.

As I was checking in to the bridge on Foursquare, I noticed it said the Georgia / South Carolina state line was only .5 miles away. Nooooo, that couldn't be right, I thought. And before I could really start to formulate my shock in to words, there at the end of the bridge was the "Welcome to South Carolina" sign.

I've been living here for two-and-a-half weeks and had no idea the state line was so close. I knew it was near; I knew it wasn't far. I spend much of my free time looking at maps these days, I'm practically a cartographer at this point. Somehow, that invisible border escaped me. The suddenness of this landmark was so shocking, even Paisley remarked "I just can't believe it! We're here already?"

After our obligatory stop at the sign (a total of ten so far), we were wheels up, so to speak, for Charleston. Be sure to drop that R; I overheard one of their tour guides today explain that folks around here just go right ahead and leave the R out. A nice long drawl. Chahhhhleston. I think it's lovely and divine.

We entered Charleston in the midst of a flood warning and a torrential downpour that left us barely able to see over the hood of our car. What is it about this part of the country and monsoons? Since Alabama we've been caught in more walls of rain than I've ever seen. This wasn't going to make for a grand day of sight seeing in one of the South's fairest cities. After drowning Shelton's shoes in a failed attempt to visit Battery Park, we sought shelter at The Charleston Museum.

For $25 we gained access to the first museum in the state, maybe the country. I can't recall the claim to fame. For the history geek that I am, I'd have preferred Shelton and Paisley to drop me off and come back for me at closing time. I could have poured over every image, document, and treasure for hours. A stark and very sad reminder of the slave history in the city and our country was brought to life for probably the first time in my life. The artifacts from before, during, and after the Civil War were hard to see. Other remnants from times clearly gone by filled the museum's second floor — furniture, war weapons, clothing, and even a coffee grinder. It was remarkable.

Also, quite telling that even hundreds of years ago, people thought the country had gone to hell in a hand-basket.

A short hour and fifteen minutes later, the hurricane-force rain had reduced to a drizzle and we braved Battery Park. It's lined with old Union Army cannons, stacks of cannonballs, and sits right on the sea wall where you can just make out Ft. Sumter on the horizon. On a blue skied day, I'm sure the green pops and the walkways aren't total mud slop. The bay was beautiful and sloshed lazily on the shore; the water dotted thickly with sailboats.

Most impressive were the 200-some-year-old mansions that lined Bay St. behind the park and the sea wall. I just walked around with my jaw dragging the cobblestone, sweating through every stitch of clothing I was wearing. I couldn't help but picture the people, the lifestyles, the stories, the events that happened inside these three-story fortresses. I overheard a passing tour guide tell his riders that one we were standing in front of was for sale for $9.6 million. If 20 of us went in on that, we'd have a pretty impressive little time share. Who's up for insufferable humidity with a back-breaking mortgage?

After that, we were hungry and the day felt like a total wash so we headed back down Savannah Highway to make a very difficult decision – where to eat? Between recommendations, Foursquare, and a few stand-out places we passed on the way in to town, it was one of the hardest decisions we've had to make in a while. In the end, I don't think we made the right choice, but we didn't leave hungry and we did have some authentic Carolina BBQ in our bellies.

Bessinger's has apparently been around forever, is super famous (at least around here), and well liked by TV chefs. We were turned off by the buffet behind door number one, but opted for sandwiches at the other end of the restaurant behind door number two. It was $30 for piddly servings, there was no beer, the meat was dry, and the sides of questionable standards.

Where in Denver I made a top 10 list of places we loved eating, in Charleston I have a list of places I wish I'd gone and will save for next time:

Swig & Swine

Boxcar Betty's

Husk

Oak Steakhouse

Glazed Gourmet

Sticky Fingers

Hyman's Seafood

Non-edible: Patriot's Point, naval and maritime museum

I liked Charleston, the little bit that I got to see. Given that it was such a short round-trip, I'd like to try and fit in another stop before we wrap up this leg of HappySummr.


FOLLOW —> #HappySummr  @BrandiK
August 30, 2014

Our actual abode was in Cranston, RI, the neighboring town south of Providence, where our good friend Mary let us stay in here *ADORABLE* condo. We actually did more cooking there than we have in...

September 1, 2014

Rhode Island was surprising. Our two-week stay was fuller and busier than I expected. Something like 45 miles by 35 miles, they sure manage to stuff a lot of goodness into a tiny space. No...

June 24, 2014

This is the part two of NOLA, because we literally-slash-figuratively spent all of our time in New Orleans eating and it filled two posts. NOLA Part 1 is here. So, where was I? Stuffed from...